Palm Springs is the perfect setting from which to begin and end your journey. A captivating leisure destination in itself, offering a myriad of services and facilities to experience our truly enriching upscale property. The hotel offers 20 rooms with luxurious amenities & stylish furnishing with lush green lawns, spacious banquet hall and conference room. Our dining options include In-house restaurant and 24 hrs In-room dining. Palm Springs Stays has a beautiful Fitness Centre, Spa and Salon for guests to unwind and relax.

Business meets leisure meets pleasure. At the Palm Springs you will be hard pressed to know where work ends and leisure begins. The minute attention to detail creates a soothing blend of warm, effortless service and harmonious spaces. We believe that every moment of your life needs to be cherished and is an opportunity to live to the fullest. Whether you are at work, or at rest we have designed your stay experience to be memorable and full of hidden delights and surprises.

And you are sure to notice the difference from the moment you check in. From the smiles to the thoughtful details our staff members are taken care of to the highly efficient and state-of-the-art business facilities, At Palm Springs everything is just a little bit different and a little better.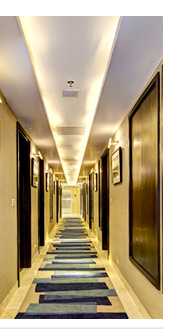 60, Community Center
Nariana, Phase - 1,
Near PVR,
New Delhi-110028
Ph: +91-11- 40193800
Mob: +91 - 9555954033