Privacy & Cancellation Policy
Terms & Condition
These terms and conditions, as may be amended from time to time, apply to all our services directly or indirectly (through distributors) made available online, through any mobile device, by email or by telephone. By accessing, browsing and using our website or any of our applications through whatever platform (hereafter collectively referred to as the "website") and/or by completing a reservation, you acknowledge and agree to have read, understood and agreed to the terms and conditions set out below (including the privacy statement).
These pages, the content and infrastructure of these pages, and the online accommodations reservation service provided on these pages and through the website (the "service") are owned, operated and provided by . Palm Springs Medi Spa & Stays B.V. ("Palm Springs Medi Spa & Stays ", "us", "we" or "our") and are provided for your personal, non-commercial use only, subject to the terms and conditions set out below.
Privacy Policy
Palm Springs stays respects your privacy. Please take a look at our privacy and cookies policy for further information.
Refund & Cancellation
By making a reservation with an accommodation provider, you accept and agree to the relevant cancellation and no-show policy of that accommodation provider, and to any additional (delivery) terms and conditions of the accommodation provider that may apply to your reservation or during your stay, including for services rendered and/or products offered by the accommodation provider (the delivery terms and conditions of an accommodation provider can be obtained with the relevant accommodation provider).
The general cancellation and no-show policy of each accommodation provider is made available on our website on the property information pages, during the reservation procedure and in the confirmation email. Please note that certain rates or special offers are not eligible for cancellation or change. Please check the room details thoroughly for any such conditions prior to making your reservation.
If you would like to review, adjust or cancel your reservation, please revert to the confirmation email and follow the instructions therein. Please note that you may be charged for your cancellation in accordance with the accommodation provider's cancellation and no-show policy. We recommend that you read the cancellation and no-show policy of the accommodation provider carefully prior to making your reservation.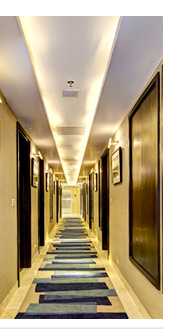 60, Community Center
Nariana, Phase - 1,
Near PVR,
New Delhi-110028
Ph: +91-11- 40193800
Mob: +91 - 9555954033