As you take care of your business, we at the Palm Springs take care of you. To keep fit, feel free to drop into Avataar, our well equipped gym (yes, you will feel like a new Avataar of yourself). To relax there's Tuscany our spa and Looks Salon to keep you looking well groomed all the time.
Escape the limits of time & immerse yourself in one of our exquisitely packaged recipes for relaxation. Tuscany's holistic approach utilizes natural active ingredients from botanical extracts & plant essential oils together with traditional massage techniques to help restore the natural balance of your body and mind.
Our Spa menu includes a traditional and specialty collection of massages, body treatments and skincare services utilizing organic and natural ingredients. All designed to take you to a new state of calm and rejuvenation. It strengthens your immune system and protects against harmful pollutants. Treatments are designed as part of your weekly routine to help alleviate stress, remove toxins, providing nourishment and total pampering. for an experience you would treasure !!! Open all your senses to a new beginning.
Pamper yourself with our Salon services for men and women including professional hair design, luxurious spa manicures and pedicures as well as make-up artistry; all offered in a unique sanctuary where guests can feel relaxed and beautiful.
Exercise in our state-of-the-art Fitness Center featuring the latest cardio equipment each outfitted with personal entertainment centers, as well as other exercise machines and a separate section of free weights. Personal trainers and yoga instructors are available for individual or group instruction.
These services are available to all our guests and visitors alike, along with state of the art equipment that the hotel has to offer.
For any query about prices, kindly send us mail to :
avataar@palmspringsstays.com
( Direct No. - +91 - 11- 49676733 )
tuscany@palmspringsstays.com
( Direct No. - +91 - 11 - 49676755 )
looks@palmspringsstays.com
( Direct No. - +91 - 11 - 49676744 )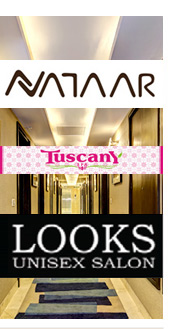 60, Community Center
Nariana, Phase - 1,
Near PVR,
New Delhi-110028
Ph: +91-11- 40193800
Mob: +91 - 9555954033